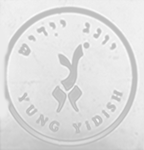 Founded in 1993 by Mendy Cahan, YUNG YiDiSH is a non-profit organization that set for itself the purpose of preserving and transmitting Yiddish culture, as well as encouraging contemporary Yiddish creativity in its various forms. The organization's members and friends consider Yiddish a language alive, an essential ingredient of our cultural heritage to be fostered by looking both back and forward. עברית & יידיש
Currently YUNG YiDiSH has two locations: a library and  cultural center with stage and piano in Jerusalem, and a 400 sq. meter book annex at the central bus station in Tel Aviv, which is developing into a Yiddish living museum.
We started out with the first activity of collecting, safeguarding and disseminating of Yiddish books, but very soon YUNG YiDiSH developed into a core of cultural activism, a battery of production and a place for exhibitions, concerts, readings, commemorations and artistic experimentation.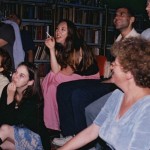 Since its inception, YUNG YiDiSH has sought to co-operate with a large array of existing institutions to broaden the interest in Yiddish at large and was at the forefront of developing a refreshed awareness of Yiddish in Israel. Only freshly created, YUNG YiDiSH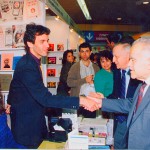 was the sole Yiddish presence at the International Jerusalem Book Fair in 1992 and was instrumental in sparking off the first Israeli Yiddish film festival at the The Jerusalem Cinematheque in 1993. Since then YUNG YiDiSH has cooperated with many institutions and organizations such as Alma College, The Hebrew University in Jerusalem, UCLA, Yad Ben Zvi, Association des Juifs Deportes de France, Emunah, The Wold Federation of Jewish Child Survivors of the Holocaust, Beth Hatfutsot-The Diaspora Museum, Vilnius University, Beth Shalom Aleikhem, Tel Aviv University, and many more.
Come and visit us,  join our events, comment, be in touch, become part of our ongoing cultural adventure.
YUNG YiDiSH
Registered Non-Profit Organization
(58-021-411-2)

Administration, Book  Annex & Living Yiddish Museum:
YUNG YiDiSH at CENTRAL BUS STATION in TEL AVIV
108 Levinsky St  – Fifth Floor –  Studio 5008
Tel Aviv 66990
Tel: +972 3 6874433   yung@yiddish.co.il
Library  & Culture Center:
YUNG YiDiSH JERUSALEM
52 Yermiyahu St.
Jerusalem 94467