February 9, 2013
9:00 pm
to
11:00 pm
February 16, 2013
9:00 pm
9:00 pm
to
11:00 pm
March 2, 2013
9:00 pm
March 23, 2013
9:00 pm
September 28, 2013
9:00 pm
to
11:00 pm
October 5, 2013
9:00 pm
to
11:00 pm
October 12, 2013
9:00 pm
to
11:00 pm
October 26, 2013
9:00 pm
to
11:00 pm
November 2, 2013
9:00 pm
to
11:00 pm
November 9, 2013 9:00 pm
to
November 10, 2013 11:00 pm
November 16, 2013
9:00 pm
to
11:00 pm
November 23, 2013
9:00 pm
to
11:00 pm
November 30, 2013
9:00 pm
to
11:00 pm
December 7, 2013
9:00 pm
to
11:00 pm
December 14, 2013
9:00 pm
to
11:00 pm
December 21, 2013
9:00 pm
to
11:00 pm
December 28, 2013
9:00 pm
to
11:00 pm
January 4, 2014
9:00 pm
to
11:00 pm
January 11, 2014
9:00 pm
to
11:00 pm
January 18, 2014
9:00 pm
to
11:00 pm
January 25, 2014
9:00 pm
to
11:00 pm
February 1, 2014
9:01 pm
to
10:59 pm
February 8, 2014
9:00 pm
to
11:00 pm
February 15, 2014
9:00 pm
to
11:00 pm
February 22, 2014
9:00 pm
to
11:00 pm
March 1, 2014
9:00 pm
to
11:00 pm
March 8, 2014
9:00 pm
to
11:00 pm
March 15, 2014
9:00 pm
to
11:00 pm
March 22, 2014
9:00 pm
to
11:00 pm
March 29, 2014
9:00 pm
April 26, 2014
9:00 pm
to
11:00 pm
May 3, 2014
9:00 pm
to
11:00 pm
May 10, 2014
9:00 pm
to
11:00 pm
May 17, 2014
9:00 pm
to
11:00 pm
May 24, 2014
9:00 pm
to
11:00 pm
May 31, 2014
9:00 pm
to
11:00 pm
November 29, 2014
9:00 pm
to
11:00 pm
December 6, 2014
9:00 pm
to
11:00 pm
December 13, 2014
9:00 pm
to
11:00 pm
December 20, 2014
9:00 pm
to
11:00 pm
December 27, 2014
9:00 pm
to
11:00 pm
March 14, 2015
9:00 pm
to
11:00 pm
March 21, 2015
9:00 pm
to
11:00 pm
March 28, 2015
9:00 pm
to
11:00 pm
January 30, 2016
9:00 pm
to
11:00 pm
February 6, 2016
9:00 pm
to
11:00 pm
February 13, 2016
9:00 pm
to
11:00 pm
February 20, 2016
9:00 pm
to
11:00 pm
February 27, 2016
9:00 pm
to
11:00 pm
יונג יידיש ירושלים YUNG YiDiSH Jerusalem
מפגשי הכליזמרים הירושלמים ביונג יידיש במוצ"ש
קלעזמארים מלווה מלכה פארברענגעניש
Kool Klezmer on Saturday night
בהפקת אברהם בורשטיין ואגודת הכליזמרים ירושלים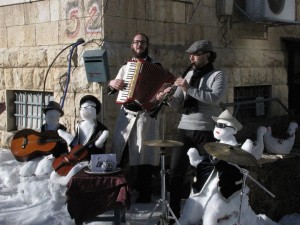 מפגשי מוסיקה של אמני כליזמר ותיקים לצד מתלמדים, אוהבי כלזימר והקהל הרחב באווירה נינוחה שירי יידיש, ניגוני חסידות עתיקים, שירי קרליבך וכל מיני מילי דמיטב.
בין הנגים והזמרים:
דב זילברמן כנר, נתן יפת פסנתר, נחמן גלהר מטופף, אברום בורשטיין קלרינט, מנחם בורשטיין קלרינט ועוד רבים אחרים

ביונג יידיש ירושלים – רחוב ירמיהו 52 במוצ"ש מהשעה 9

תרומה מומלצת להשתתפות בהוצאות 40 ש"ח
קלעזמארים מלווה מלכה פארברענגעניש אין יונג יידיש – מיט קוגל, א לחיים און גוטע לייט
מוצאי שבת 9 אין אוונט   – שפענדונק אויף די הוצאות   40 ש"ח
Kool Klezmer on Saturday night
! Sat at 9 pm
Listen, enjoy and participate!
In cooperation with the Jerusalem Klezmer Association and Avraham Burstein
Live nigunim of old, Hassidic melodies, Yiddish songs, Carlebakh nigunim and more treasures from the klezmer repertoire, accompanied by a lekhaym …. what better way to end the Shabbes and start the week?
30//50  NIS ש"ח
יונג יידיש ירושלים YUNG YiDiSH Jerusalem
רחוב ירמיהו Rechov Yermiyahu 52