February 13, 2018
8:30 pm
to
10:05 pm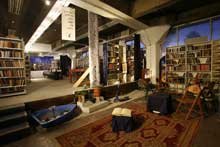 TUESDAY 8:30pm יום שלישי דינסטיק
13.2.2018 @ 8:30
Rokhl KAFRISSEN & Shane BAKER from N.Y.
Yiddish Reflections, Song & Stand-up
אורחים נדירים ומיוחדים פוקדים את יונג רחל כפריסין, עורכת דין, עיתונאית ופעילה תרבותית בתחוםהיידיש תשוחח על מושג "תחיית היידיש" ושיין בייקר, שחקןוסטנד-אפיסט ממסורת הבורשט-בלט, יופיע. ערב חד פעמי ביונג יידיש תל אביב.
א ספעציעלער אוונט. צוויי אייגנארטיקע שטערן פון דער נו-יארקער יידיש-לאנדשאפט וועלן אויפטרעטן אין יונג-יידיש תל אביב.
רחל קאַפֿריסן רעדט װעגן באַגריף פֿון דער אױפֿלעבונג פֿון ייִדיש, און שײן בײקער טרעט אױף מיט אַ פּראָגראַם פֿון ייִדישע רעציטאַציעס און געזאַנג. ספּעציעלער גאַסט, די באַקאַנטע שױשפּילערן מיס מיצי מאַנאַ.
Rokhl Kafrissen talks about the concept of "Yiddish revival" and Shane Baker appears with a program of Yiddish recitation and song. Special guest, the beloved actress Miss Mitzi Manna
Rokhl KAFFRISSEN, is a practicing attorney, journalist, playwright and opiniated blogger. Her articles appear in Tablet Magazine, Haaretz, Forverts a.o.. Her Yiddish play, "Di Brokhe" was published recently. Follow this Rootless Cosmopolitan.
Shane BAKER is "one of the most prominent proponents of Yiddish theater, language and culture in New York. He is a member of the New Yiddish Repertory Company, one of the two major Yiddish theater companies left in New York City, along with the more traditional Folksbiene theater group. "(NYTimes)
David SEREBRYANIK plays the piano since the age of 6, plays Jazz, cabaret, Yiddish and classical and is always looking for new fires to extinguish.
כניסה מומלצת 36 שח פעמיים ח"י שקלים
Reserve by mail or Facebook and get a free drink!
תודיעו על בואכם בפייסבוק או דרך מייל ונקבל את פניכם עם לחיים!
רעזערווירט דורך בליצפאסט צי ספר הפנים (פייסבו"ק בלע"ז) און מיר וועלן אייך מכבד זיין מיט א גלעזעלע משקה!
yung.yidish@gmail.com
*
https://www.facebook.com/yiddish.telaviv
---
---

YUNG YiDiSH TEL AVIV יונג יידיש תל אביב
יונג יידיש בתחנה מרכזית החדשה – לוינסקי 108 – מתחם אמנים – קומה 5 – סטדיו 5008 טל לברורים והזמנת מקומות: 03-6874433:
YUNG YiDiSH Central Station – Levinsky 108 – Artists Studio 5008 – 5th Floor – Tel – 03-6874433