December 13, 2009
8:30 pm
to
10:30 pm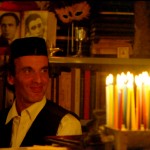 ליכטעלעך, לידער און ליכטיקייט : א חנוכה-מסיבה מיט דעם גאנצן קהל הקודש און מיט די יונג יידישע כלי-קודש – פולינה בעלילאווסקי, מאיר צ'צ'יק, רות לעווין, מענדל כהנא, בורשטיינס קלעזמארים און בעטי קליין.
הדלקת נרות, סופגניות ושמחה גם יחד.
Candle lighting, songs, atmosphere and fun at YUNG YiDiSH Jerusalem. With light, liveliness and latkes. With our in-house artists Polina Belilovsky, Mendy Cahan, Ruth Levin, Meir Tshetshik, klezmorim and guest performer Betty Klein.
Entry 35-40-50 NIS.