Guest Performers at YUNG YiDiSH
יום רביעי   Wednesday

המוכתר הנו אמן קברט ייחודי המשלב פיוט ושנסון ,מוזיקה אלקטרונית, אקזוטיקה
ופאנק . שפתו היא תנכית רווית הומור וגרוטסקה.
חוויית הופעה של המוכתר הנה קרקס מרגש וקסום. ההופעה מתאימה לבני 12 ומעלה
המופע הינו בעברית, גרמנית ואנגלית (לא ביידיש)
30 – 40 ש"ח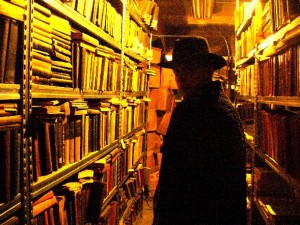 Hamuchtar is a cabaret p
erformer who blend
s elements of chanson, electronics, exotica and punk. His texts are a cross between Classical and Modern Hebrew and they are distinguished by a unique humor that is uncompromising yet subtle . A show of Hamuchtar is a circus of nostalgia, magic and grotesque.
The show is in Hebrew, German and English (no Yiddish)
30 – 40 NIS

תחנה מרכזית ת"א, מתחם אמנים, קומה 5   סטודיו 5008